Recorded during our Recovering from Trauma and Thriving in Life seminar of 2011, these videos focus on how to provide prayer ministry in a comprehensive way using the Thrive principles: Belonging, Receiving and Giving, Trauma Recovery, Maturity, and Coherent Identity.
Five-to-Thrive and CARE Community Testimonies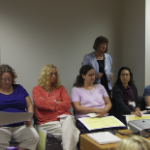 Jo Getzinger lectures on the five Thrive elements, the impact of trauma on the brain's control center, and recovery from trauma. Also included is a panel of CARE community members who share personal experiences of pain at the different levels of the brain's control center.
The Value of Christian Community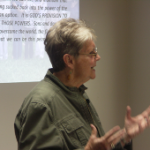 Cheryl Knight delivers a powerful presentation on the need for Christian community to truly grow and thrive in our lives as Christians. She draws frequently from personal experiences of others who have lived in community including authors, Dietrich Bonheoffer and Art Katz, as well as her experience in the CARE community. Special focus is given to the role of community in providing the Thrive principles to those in need. Community is a place to belong, to give and receive, to recover from trauma, to mature, and to develop a coherent identity.
 Interventions at Five Levels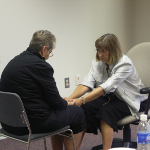 Jo Getzinger and Cheryl Knight present a skit of prayer sessions. Cheryl (acting in the role of a client) is addicted to child pornography and discovers her addiction comes from childhood abuse. The reenacted excerpts of typical sessions over the course of therapy display all five areas of pain in the brain's control center, and demonstrate the appropriate interventions applied using verbal and non-verbal skills.
Attachments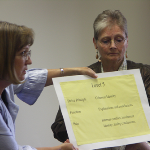 Jo Getzinger and Cheryl Knight provide three humorous and lively skits on the three insecure attachment styles: Dismissive, Distracted, and Disorganized. These styles are also known as Avoidant, Ambivalent, and Fearful.



 Live Prayer Ministry Using Five-to-Thrive and 19 Skills
This four-disc set of live sessions displays the Thrive concepts and how trauma impacts the brain at every level, requiring the appropriate skills and prayer to address the pain. Sara suffers from Dissociative Identity Disorder and is a brave survivor with a history of severe abuse, emotional neglect, ritualistic abuse and mind control. On-screen captions identify the pain level and skills utilized during sessions.

Five-to-Thrive concepts are the necessary elements needed for healthy growth and development. When any of these elements have not been attained in life because of the lack of emotional support and/or abuse, our brain's four-level, control center is traumatized. Both verbal and non-verbal skills are needed to address the appropriate brain region experiencing the pain from trauma. This series is CARE's interpretation and application of the Thrive concepts and skills applied in prayer ministry based on the work of Daniel J. Siegel, MD, Dr. Alan Schore, Ph.D. and Jim Wilder, Ph.D., who compiled Siegel's and Shore's material into a working model called Thrive. C.A.R.E. uses Thrive concepts in a community setting for survivors with histories of severe abuse and neglect. We are dedicated to providing a place to belong, to receive and give, to recover, to mature and to develop a coherent identity to better serve Jesus, our Messiah.
◊◊◊ Order Your Copy Today ◊◊◊
Call CARE Packaging at 231-745-4950
 Visit CARE Packaging for prices.